Weed Soup
Published by Anne Altor on Jun 20th 2023
Spring and Summer provide abundant greens that you might not have thought about eating. The truth is, you can eat many plants that are considered "weeds," and they're not only free, they're nutrient-dense and delicious! We enjoyed a fresh weed soup recently and share the recipe below. If you want to take baby steps into your weed eating, add some spinach, chard or other conventional greens along with your weeds.
Tips when gathering weeds for soup:
Look for the more tender young leaves, but don't be afraid to collect a few of the larger leaves too.
Take the time to positively identify the plants you're collecting

A couple great guides to identifying and cooking with common garden plants are:

Don't pull the plant out by the roots. Respectfully take a leaf or three, but not so many that you destroy the plant.
Look for insects and spiders before collecting a leaf, and choose bug-free parts of the plant as much as possible.
Avoid gathering weeds from busy roadsides.
Gather your greens in the morning if possible when they're fresh and hydrated. If you can't get out in the morning, try for the evening or focus on shady areas where plants aren't wilting in the sun.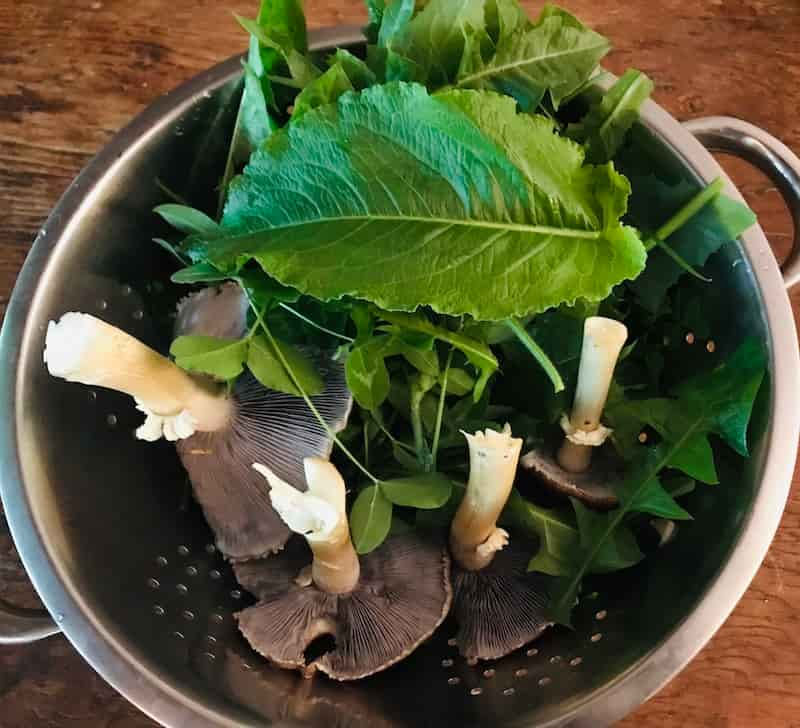 INGREDIENTS FOR WEED SOUP
A colander full of wild greens (suggestions below)
Vegetable or chicken broth or bullion
Potatoes (cut into chunks) or rice
Onions or shallots, chopped
Garlic, chopped
Mushrooms if desired, such as oyster mushrooms, lion's mane or wine caps. Know your mushrooms - don't collect any from the wild that you aren't sure about.
Salt & pepper
Herbs such as Rosemary, thyme, sage, paprika
Hot pepper if desired
Optional fats: butter or oil (~2 tbsp per cup of rice or per 2 cups potatoes), coconut milk
HOW TO MAKE WEED SOUP
Rinse the greens to remove any soil or debris, then roughly chop them.
Put greens, broth, and rice or potatoes, onions/shallots, garlic and mushrooms in a large stock pot. The amount of broth you'll use depends on how thick you want the soup to be. Use less broth for a thicker soup, and more for a thinner one. A good place to start is 3 to 4 cups water per cup of rice, or 2 cups water per cup of potatoes.
Add herbs and spices
Bring to a boil, then reduce heat to a simmer
Simmer for 30 to 45 minutes
Add optional fats, if using
Puree with an immersion blender or in a counter-top blender
Taste and adjust seasonings
Garnish if desired with chives or onion greens, more sorrel, yogurt, croutons
Serve and enjoy!
Weed soup is delicious with chips, toast, hardboiled eggs or avocado.