Summer Pesto
Published by Anne Altor on Jun 22nd 2022
Welcome warm days and lush growth with delicious, healthy Summer Pesto!
If you've had fresh pesto, you know the taste of summer (although we eat it all year!). Fresh herbs and garlic, blended up with olive oil, nuts (and maybe a little sharp cheese)… it's so good on pasta, rice, veggies…
I love traditional basil pesto, but my sauce-making world expanded when I started thinking of pesto as an HERB / VEGGIE – based green sauce rather than a basil-based sauce. This opens up a world of possibilities for flavor, nutrition, foraging and using what's currently abundant in your yard or farmer's market. So here's a pesto recipe you can make with any combination of greens and culinary herbs. If you're skeptical, make a batch with half basil and half other greens. Soon you may be making your own new pesto recipes!
Summer Pesto Recipe
Ingredients:
4 to 8 cups packed greens
4 to 8 fat cloves garlic
1 cup olive oil
1 to 2 cups nuts (walnuts, pine nuts, pumpkin seeds)
Salt & Pepper
Optional: splash of lemon juice (1 to 2 Tbsp)
Process:
Put greens in food processor and blend into small pieces
Add garlic & olive oil and blend until smooth
Add oil, salt & pepper and blend
Taste & adjust salt & pepper. Add lemon juice if desired
Add nuts and blend to desired smoothness or chunkiness of nuts
Serve with pasta, rice, veggies, pizza, meat, corn on the cob
Suggested Greens for Summer Pesto:
I love to combine different greens for extra nutrition and flavor and often use a mix of salad greens and wild edibles. The list below is just a start – any edible greens can go into pesto.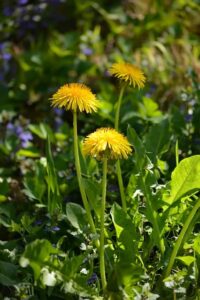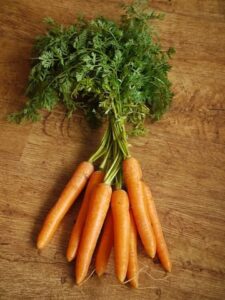 Dandelion greens
Carrot tops
Chickweed
Parsley
Beet greens
Spinach
Arugula
Cilantro
Garlic mustard
Garlic scapes
Basil
Tips:
You can be creative with additions to the pesto recipe above. Some ideas: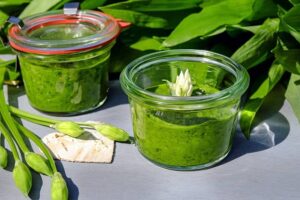 Sun-dried tomatoes
Olives
Roasted red peppers
Pistachios
Pesto freezes well. I like to make big batches to share with friends and freeze for later. Freeze it in small glass jars or freezer bags – it keeps for at least 6 months.
Enjoy!
What pesto discoveries have you made? Share your ideas in the comments below!