Red-bean mochi
Published by Anne Altor on Feb 9th 2015
I had some delicious mochi balls at a friend's sushi party recently and decided it would be fun to try to make them, so I did some internet research & came up with a plan. The ingredients are simple. The rice flour can be found at Asian grocery stores. It can't be any old rice flour – must be sweet rice:
Filling:
1 cup dried adzuki beans
1/8-1/4 cup sugar
Dough:
1 cup sweet rice flour (Mochiko, I used Koda Farms brand)
3 T sugar
pinch of salt
3/4 cup water
First, prepare the beans. Soak the dried beans for 24-48 hours, then drain and rinse them. I started them off with some heat to get them to a simmer, then immediately turned the heat off and let them sit for a day. After rinsing the beans, cover them with water and cook them, adding more water as needed, until they are soft and they mash easily when you press on them (2-3 hours). Then drain them again. Puree the cooked beans in the food processor. Add the desired amount of sugar (I found it doesn't take much to make them pretty sweet). If the mixture is too watery, you can cook it down a bit in some oil in a pan.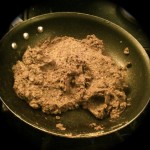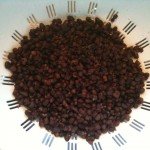 Form the beans into small balls (about 1/2 to 3/4-inch diameter) and freeze them.
When the bean balls are frozen, prepare the sweet rice dough:
Mix the sweet rice flour with the 3 T sugar and pinch of salt, and add the water. Mix well, cover, and microwave on high for about 1 1/2 minutes. Now mix it really well with a big spoon or fork for a few minutes, until it is translucent. It will be really sticky. Dust your work surface with starch (e.g., potato starch, corn starch or tapioca) and roll the dough out until it's about 1/4 to 1/3 inch thick. Cover the dough to keep it moist, and cut off a small piece. Put one bean ball in the middle and wrap it with the dough. If necessary, you can moisten the cut sides of the dough to help them stick together.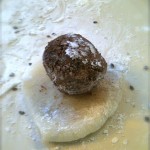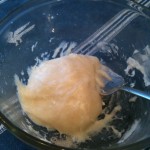 If you want to decorate the top with sesame seeds, dip the surface quickly in water and roll it in sesame seeds. I recommend that you keep these in a sealed container OUT of the fridge. I put mine in the fridge and the rice wrapper really dried out, even in a sealed container. For a video tutorial on how to make these, check out Maangchi's u-tube video.