How to Protect Birds from Window Collisions
Published by Anne Altor on Aug 9th 2017
The windows in our living room
are shaded by trees, but that wasn't stopping birds from flying into them. Stand outside and look at the windows in your house or office. Birds see the sky, clouds and trees reflected in the glass, which is why they fly into it. Bird strikes against windows and buildings are a major cause of death for birds in North America.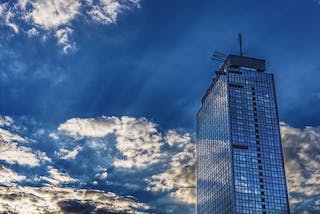 Hundreds of millions of birds die every year in the US alone from hitting windows. Adding this to the problems birds face from habitat loss, cats and other predators, roads, storms and climate change, they have to run the gauntlet just to get through the day much less through migration. Our homes might not have huge expanses of glass, but if each of us can help save one or two birds each year, that will add up to a LOT of birds.
To prevent bird strikes,
the reflection must be broken up to make the windows visible to birds. This can be done with visual markers or barriers, including removable paint, opaque tape, strings and screens. Individual decals such as hawk or owl stickers are not effective. The correct spacing between markers is important: birds will try to fly through markers that are spaced too widely. Vertical spacing should be a maximum of 4 inches (10 cm) between marks for songbirds and larger birds and a maximum of 2 inches (5 cm) for small birds such as hummingbirds. Horizontal marks should be spaced 2 inches apart.
How to bird-proof your windows:
There are commercial and generic options that effectively prevent bird strikes. Bird-proofing your windows makes a great DIY project to do with kids, friends or a good podcast! All of these window treatments are applied to the OUTSIDE of the window.
Tempera paint: This is an inexpensive, long-lasting solution. Paint small dots every 2 to 4 inches vertically and every 2 inches horizontally. Use a color that contrasts with the window pane. The paint may wash off over time and need to be reapplied. If you ever need to remove it, vinegar and water will take it off.
Twine, yarn or similar material: This is quick and easy. Extend twine from the top to the bottom of the window, with 2 inches between threads. You can attach it with strong tape at the top and bottom on the window or door frame. You can make (or buy) a more sophisticated version of this, called an "Acopian Bird Saver." A guide is found at this link.
Install external screens: Some newer windows come with mosquito screens that attach on the outside of the window. Mosquito screens and netting help protect birds by softening the impact or causing them to bounce off if they fly into a window. Installing a taut external screen can help break up the reflection as well as reduce injury.
Install external shutters or shades: These not only improve energy efficiency, they remove the problem of window reflections. Some shutters and shades have a remote control option to make them easy to open and close. Obviously they are only effective when closed.
Feather-Friendly bird tape (pictured above). I put this on our windows and it has eliminated bird strikes. It consists of semi-opaque white squares at 2-inch intervals on a roll of sticky backing. You unroll the tape along the glass and press over it with a credit card or similar object. Then you peel the sticky backing off and the dots remain.
American Bird Conservancy Bird Tape: This is a translucent tape available in 50-foot rolls of continuous strips or individual squares. Like other markers, the tape is applied every 2 to 4 inches vertically and every 2 inches horizontally.
CollidEscape window films: These come in various colors and patterns and are applied to the whole window.
Bird Safety Film: This is applied to the whole window. It is imprinted with lines that break up the reflection and is said to be "crystal clear" and see-through from the inside looking out, and "100% effective." It's used at various zoos.
More resources for helping birds:
FLAP Canada is an excellent resource for information on bird conservation, protecting birds from collisions with buildings, and bird rescue and rehabilitation.
The Cornell Lab of Ornithology has helpful recommendations for ways to incorporate bird protection in new construction projects, such as installing windows with screens on the outside, and using external shutters or sunshades. They also have information on how to help an injured bird.
We can all help to prevent bird strikes. It's part of recognizing that we're part of a bigger habitat!
Please share this post using the social links below!